The MRI Appearance of Anterior Patellar Bursitis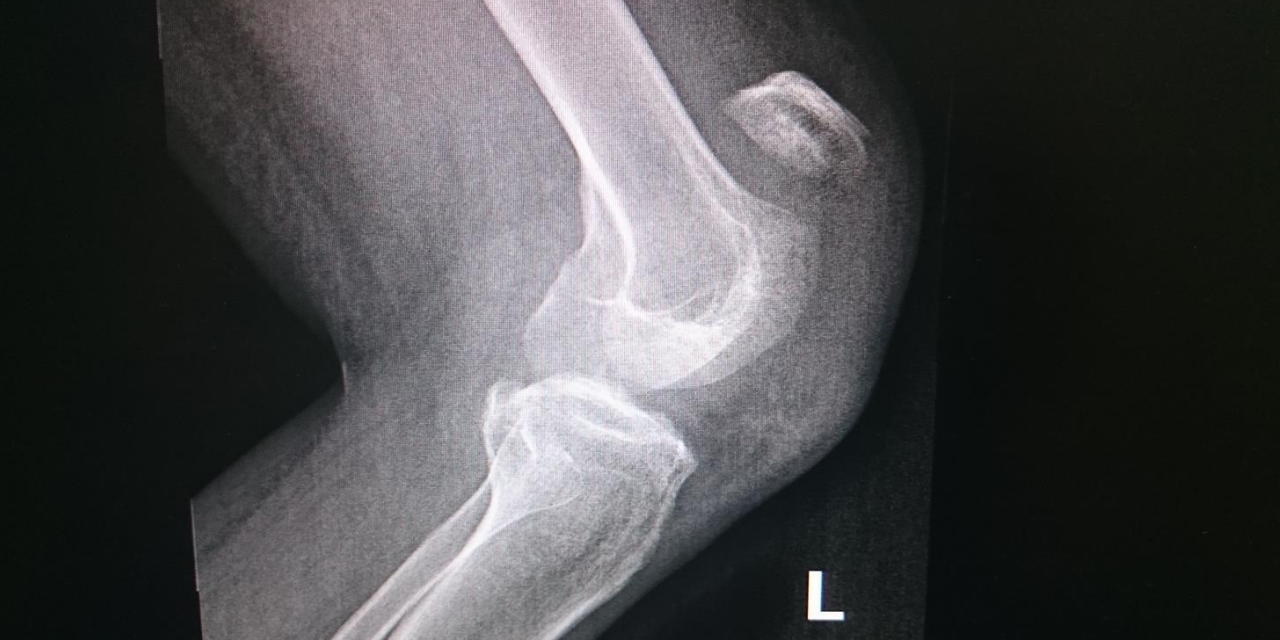 Also called prepatellar bursitis, this condition is a common cause of anterior knee pain. There is an accumulation of fluid in the prepatellar bursa, which is found between the skin and the patellar ligament. Inflammation of the synovial lining of the bursa results in the accumulation of variable amounts of fluid. The most common symptom is anterior knee pain with or without a palpable mass.
There is a predilection for patients in middle age and older, or, conversely, in athletes in a younger age group (1). It is generally accepted that trauma to the bursa is the causative factor. Repeated kneeling activities are generally responsible for the synovial irritation that results in the fluid production. This can be seen in an older age group in persons working, for example, as house maids, clergy members or carpet installers. In younger age groups, wrestling is an athletic activity that involves much kneeling.
In all cases, there is a thickening of the synovium. This could also be seen in a patient with rheumatoid arthritis, and, if so, rice bodies may be present in the synovial fluid. In some cases, there may be a degree of hemorrhage, with the inclusion of by-products in the fluid. Less common is an infectious component to the synovitis, which may then produce an exudate within the bursa as well.
A finding on plain film x-ray may be a thickening of the soft tissue anterior to the patellar ligament. This is demonstrated on a lateral view of the knee (Figure 1). When it is this prominent, there may be an actual palpable mass. When less fluid is present, there may be a puffiness over the ligament that may be palpable.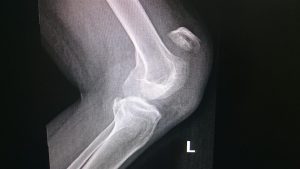 Figure 2 is a fat suppressed sagittal image of a normal knee. The patellar ligament appears as the low signal intensity structure (black) joining the inferior pole of the patellar to the tibial tubercle. The subcutaneous soft tissue anterior to this ligament is of rather uniform thickness and displays largely low to intermediate signal intensity.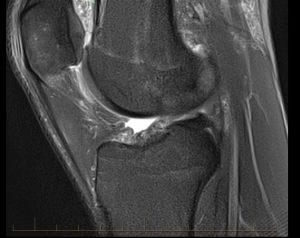 Figure 3 demonstrates a fluid filled bursa over the ligament and distal patella. On this fat suppressed image, the bursa manifests high signal intensity (white), due to the relatively pure fluid content.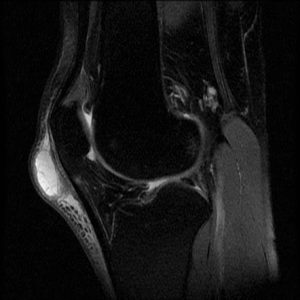 In figure 4 the site of inflammation is lower in the bursa than that seen in figure 2. The fluid is again high signal intensity; however, there are multiple small hypointense bodies within it, likely representing some intrasynovial debris.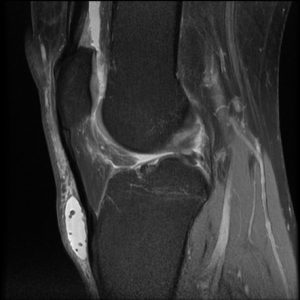 This condition may resolve with cessation of the aggravating activity, and, indeed, activity modification is the most common treatment for an uncomplicated case of bursitis. Complicated conditions, such as rheumatoid arthritis or infection, would require treatment of the underlying disorder. In uncomplicated cases, various physical modalities may be used adjunctively to a speed alleviation of pain and resorption of the fluid. Surgical resection of the bursa may be necessary in a minority of cases that are recalcitrant to treatment or when there are repeated chronic episodes.
References:
Stoller D. W.: Magnetic Resonance Imaging in Orthopaedics and Sports Medicine, ed. 2. Philadelphia, J. B. Lippincott Company 1993.