ICS ANNOUNCES 2022 CHIROPRACTIC CHAMPION OF THE YEAR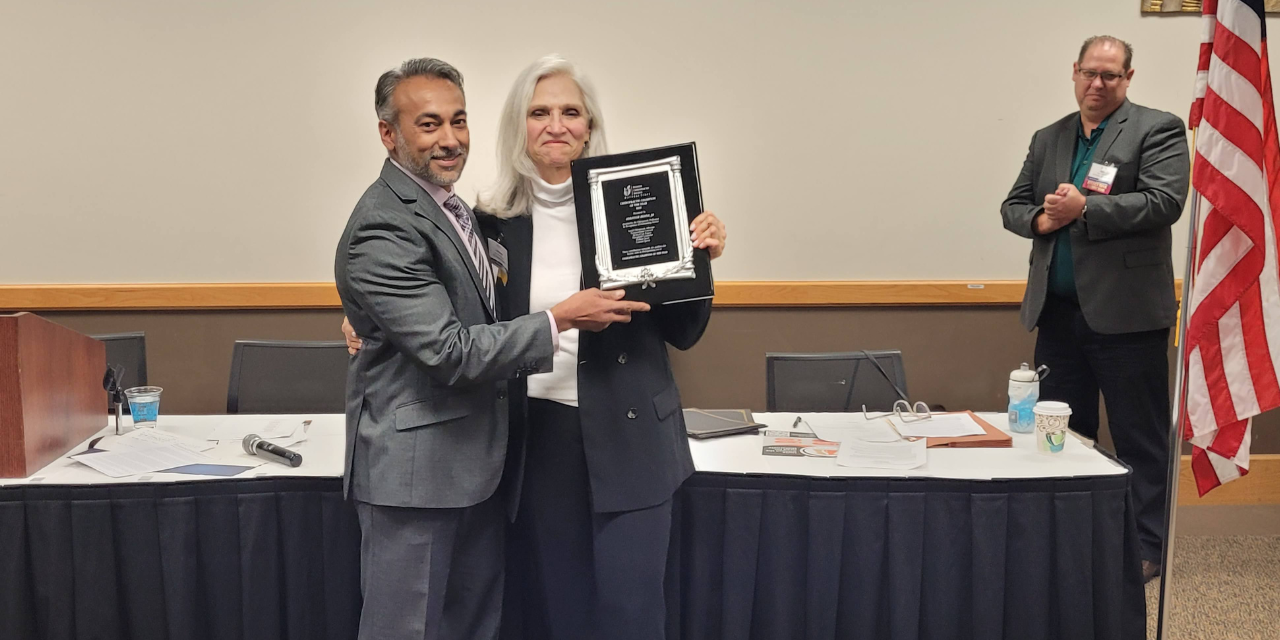 The Illinois Chiropractic Society announced the winner of its highest award at the annual convention on October 1st. This year, however, there was a bit of a twist. Previously referred to as the Chiropractic Physician of the Year, the award this time was changed to reflect the recipient and is referred to as the Chiropractic Champion of the Year.
ICS President, Dr. Vijay Patel, presented the award to Adrienne Hersh, JD, ICS General Counsel, before a roomful of applauding ICS members at the General Business Meeting at the convention. ICS Executive Director, Marc Abla, participated in the presentation.
Few exemplify the qualities of what this award represents more than Ms. Hersh. She has worked as the Illinois Chiropractic Society's General Counsel since 2003, representing the Society as in-house counsel and advising the organization on a wide range of legal issues affecting chiropractic physicians. Her broad knowledge range includes licensing laws and rules, scope of practice, insurance and reimbursement, business structuring, labor and employment, contracts, and litigation. Previously, Ms. Hersh served for eight years as general counsel to the Illinois Department of Professional Regulation, where she was chief legal counsel responsible for overseeing all legal issues and advising the 50+ licensing and disciplinary boards, including the Medical Disciplinary Board and the Medical Licensing Board.
"No one is more deserving of the title of chiropractic champion than Adrienne," said ICS President Patel.
The inscription on the plaque summed it up by referring to Ms. Hersh as a loyal chiropractic advocate, medical law expert, thoughtful counselor, and brilliant jurist. She has been and continues to be a moving force for the profession and intimately involved in every positive change to the statutes and administrative codes that regulate chiropractic physicians. She is a member of the Illinois State Bar Association Health Care Section, the Illinois Association of Healthcare Attorneys, and the National Association of Chiropractic Attorneys.
Please join us in congratulating Adrienne Hersh as the 2022 ICS Chiropractic Champion of the Year!
Below is a list of previous recipients of the Chiropractic Physicians of the Year:
1956 – Dr. Leonard E. Fay
1957 – Dr. W. H. Lysne
1958 – Dr. F.L.Williford
1959 – Dr. J. Lynn
1960 – Dr. L. Rehberger
1961 – Dr. E.W. Pope
1962 – Dr. John A. Davidson
1963 – Dr. Omer Beshir
1964 – Dr. Royal P. Reimer
1965 – Dr. James Shaw
1966 – Dr. Frank A. Hoffman
1967 – Dr. Vernon Mannon
1968 – Dr. Vern Walter
1969 – Dr. Harold F. Haines
1970 – Dr. Joseph Janse
1971 – Dr. Paul M. Tullio
1973 – Dr. Karl Beuerlein
1974 – Dr. Adam L. Dunlap
1975 – Dr. Martin Stone
1976 – Dr. Samuel G. Brinkley
1977 – Dr. Raymond Sturm
1978 – Dr. Harry W. Jensen
1979 – Dr. Vera Young
1980 – Dr. Glen Filberth
1981 – Dr. Daniel A. Michalec
1984 – Dr. Richard Shelby
1985 – Dr. Virgil C. Johnson
1986 – Dr. Victor A. Pionthowski
1987 – Dr. Lawrence S. Levin
1988 – Dr. Stanley M. Timm
1989 – Dr. Roger A. Pope
1990 – Dr. L.O. Weiss
1991 – Dr. Kurt H. Zimmer
1992 – Dr. Arnold Houser
1993 – Dr. Edward P. Glover
1994 – Dr. A.C. Larcher
1995 – Dr. Linda Zange
1996 – Dr. Lacy Cook
1997 – Dr. James L. Rehberger
1998 – Dr. David Taylor
1999 – Dr. Richard Dietzen
2000 – Dr. James Winterstein
2001 – Dr. John W. Galbreath
2002 – Bob Stine, Esq.
2003 – Dr. Neil Elliott
2004 – Dr. Gerald Andreoli
2005 – Dr. Ken Pangle
2006 – Dr. Lawrence Pyzik
2007 – Dr. George Goodman
2008 – Dr. Christine Becker
2009 – Dr. Richard Fay
2010 – Dr. Douglas Matzner
2011 – Dr. Jack Struck
2012 – Dr. Mario Fucinari
2013 – Dr. Scott Fladland
2014 – Dr. Monica Schnack
2015 – Dr. David Flatt
2016 – Dr. Julie Bird
2017 – Co awarded to – Drs. Richard and Barbara Everett
2018 – Dr. Joseph Ferstl
2019 – Dr. Timothy Bertelsman
2020 – Dr. Cindy Howard
2021 – Dr. John Panopoulos
2022 – Adrienne Hersh, JD