ADA Requirements: Effective Communication for Patients with Vision, Hearing, or Speech Disabilities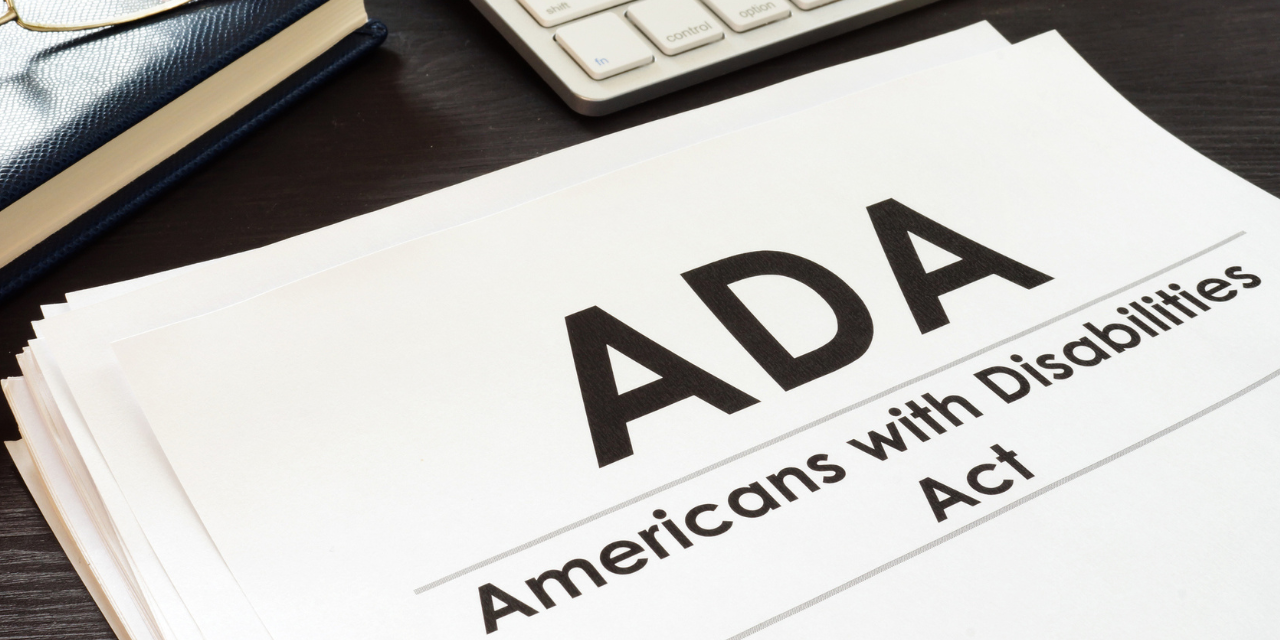 [Editor's Note: In an effort to ensure chiropractic physicians have the appropriate resources to meet compliance needs for sign language, the ICS encourages doctors to explore Voyce, a company that provides access to real-time medical language and American Sign Language (ASL) interpretation. You can find out more about Voyce here and watch a short video here.]
In 2020, the Department of Justice (DOJ) published revised rules for the Americans with Disabilities Act (ADA). These regulations apply to physician offices and clarify ADA questions that have arisen over the years since the law was first enacted. The guidance confirms that physician offices must provide accommodations (devices and other assistance) for patients with vision, hearing, or speech disabilities.
Overview
All patients are entitled to receive effective communication about their health care. Of course, people who have vision, hearing, or speech disabilities ("communication disabilities") use different ways to communicate. The ADA requires providers to ensure that communication with people with these disabilities is equally effective as communication with people without disabilities. The requirement surrounding communication ensures that all persons can effectively receive information from, and convey information to, the physician. The rule specifically addresses patients with these communication disabilities:
Vision,
Hearing, and
Speech.
ADA Requirements
Physicians must provide auxiliary aids and services when needed to communicate effectively with people who have communication disabilities. Although these circumstances are varied, the Department of Justice indicates that effective communication depends on the nature, length, complexity, and context of the communication and the person's normal method(s) of communication.
The regulations include providing auxiliary aids to more than just the patient and extending the requirement to include patients' companions. Companions can include the patient's parent, spouse, associate, friend, or other family member. Thus, when necessary to communicate with a patient's companion, chiropractic physicians must provide the appropriate communication aids.
Do Not Rely on Friends and Family Interpreters
Previously, physicians commonly relied on individuals who use sign language to bring their own interpreters, typically family members or friends. However, this approach often resulted in ineffective interpretation due to the companion's lack of impartiality and lack of understanding of specialized vocabulary. Recognizing this issue, the Americans with Disabilities Act (ADA) now places the responsibility on covered entities to provide effective communication, including the provision of interpreters. Individuals cannot be required to bring their own interpreters.
Under the ADA, there are ONLY two exceptions where an accompanying adult or child may serve as an interpreter:
In emergency situations where there is an imminent threat to an individual's or the public's safety or welfare, an adult or minor child accompanying a person who uses sign language may be relied upon to interpret if a qualified interpreter is unavailable.
If the individual explicitly requests it, the accompanying adult agrees, and the circumstances deem it appropriate. It is important, however, to avoid relying on accompanying adults if there are doubts about their impartiality or effectiveness. Patients may not choose minor children in these circumstances.
These guidelines emphasize the need for qualified interpreters to ensure accurate and accessible communication for individuals who use sign language.
Auxiliary Aids and Services
The ADA uses the term "auxiliary aids and services" ("aids and services") to refer to the ways to communicate with people who have communication disabilities. These may include both devices and human helpers. (For a more detailed description and examples of aids and services, click here.)
A few examples include:
For visually impaired persons, Braille devices, screen-reading programs, audio recordings, or a live qualified reader.
For people who are hearing impaired or both visually and hearing impaired, a qualified sign language interpreter; real-time captioning; or written materials.
For people who have speech disabilities, allowing the person ample time to write out words that staff cannot understand, or if necessary, a qualified speech-to-speech transliterator (a person trained to recognize unclear speech and repeat it clearly).
Various other technologies are available here, where the ADA provides a detailed description of devices and services, including real-time captioning, the nationwide telecommunications relay service (TRS), and video relay services.
Video remote interpreting (VRI) is especially useful and cost-effective as an aid for patients with hearing loss. VRI is fee-based video conferencing technology that allows access to an off-site interpreter to provide real-time sign language (for English, American Sign Language, or ASL) or oral interpreting services for conversations between hearing people and hearing-impaired patients. Under the new regulations, providers may use these services instead of on-site interpreters so long as either would be effective. If VRI is chosen, all of the following specific performance standards must be met:
real-time, full-motion video and audio over a dedicated high-speed, wide-bandwidth video connection or wireless connection that delivers high-quality video images that do not produce lags, choppy, blurry, or grainy images, or irregular pauses in communication;
a sharply delineated image that is large enough to display the interpreter's face, arms, hands, and fingers, and the face, arms, hands, and fingers of the person using sign language, regardless of his or her body position;
a clear, audible transmission of voices; and
adequate staff training to ensure quick set-up and proper operation.
Reminder: the ICS encourages doctors to explore Voyce, a company that provides access to real-time medical language and American Sign Language (ASL) interpretation. You can find out more about Voyce here and watch a short video here.
One Standard of Care for All
In order to ensure quality health care, patients must be able to effectively communicate and be understood by their providers.  These regulations are designed to make certain that the same standard of care is met for all patients, regardless of their abilities.  As full physicians in Illinois, patients will be reassured to know that their chiropractic physicians will provide a meaningful level of care by meeting this standard.
Important Links: