Dr. Mary Huffman Honored with Illinois Chiropractic Society 2023 President's Award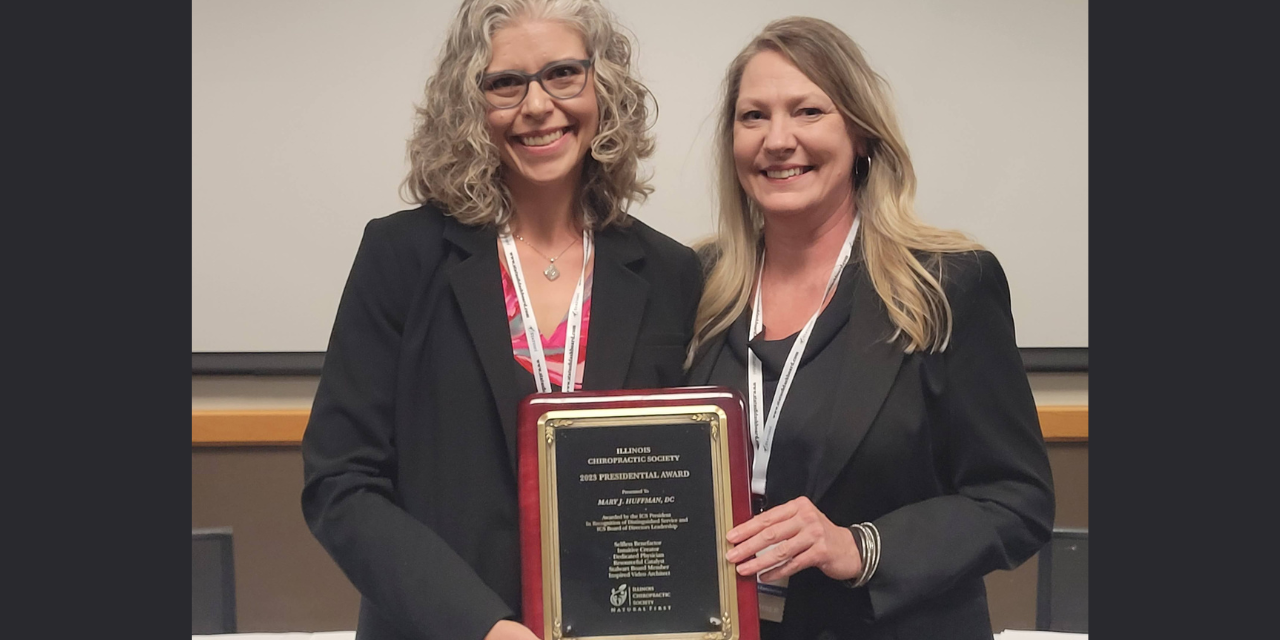 The ICS is proud to announce that Dr. Mary Huffman has been named as the recipient of the prestigious Illinois Chiropractic Society Presidential Award for 2023. The honor was presented to Dr. Huffman by ICS President Erin Strauch-Ducat at the ICS Chicagoland Fall Convention. This award is given to recognize an individual who has provided exceptional service to the ICS, the chiropractic profession, patients, and the public.
Dr. Huffman completed her education at National College of Chiropractic and went on to complete considerable post-graduate training. She attained Diplomate/Fellow status of the Academy of Chiropractic Orthopedics and as Certified Chiropractic Sports Physician. Dr. Huffman also has trained in functional rehabilitation, traditional Chinese acupuncture, and the McKenzie Method. As a respected member of the profession, she has routinely lectured at the Feinberg School of Medicine at Northwestern University, as well as having owned and operated a successful practice in the Chicago Loop.
Dr. Huffman has been active in the ICS organization, having served as Vice President and President of the Chicago District, as well as Director at Large on the ICS Board of Directors. When a vacancy occurred in the critical seat of one of two chiropractic members on the Illinois State Medical Board (the combined licensing and disciplinary board), Dr. Huffman applied and was enthusiastically recommended for the position by the ICS. Dr. Huffman was appointed by the Governor's Office and currently serves as an esteemed representative of the chiropractic profession on the state board.
In addition, Dr. Huffman has been instrumental in her family's significant donation to the Chiropractic Future Strategic Plan to launch the Pierce Family Chiropractic Research Fellowship Fund, which will be used to provide funding for a unique, three-year fellowship program for chiropractic research at Dartmouth College.
Please join the ICS in recognizing Dr. Huffman for her extensive dedication and ongoing service to the chiropractic profession. We extend deep gratitude and congratulations to Dr. Mary on her receipt of the 2023 President's Award!