Lumbar Scheuermann's Disease: A Rare Variation of A Commonly Understood Condition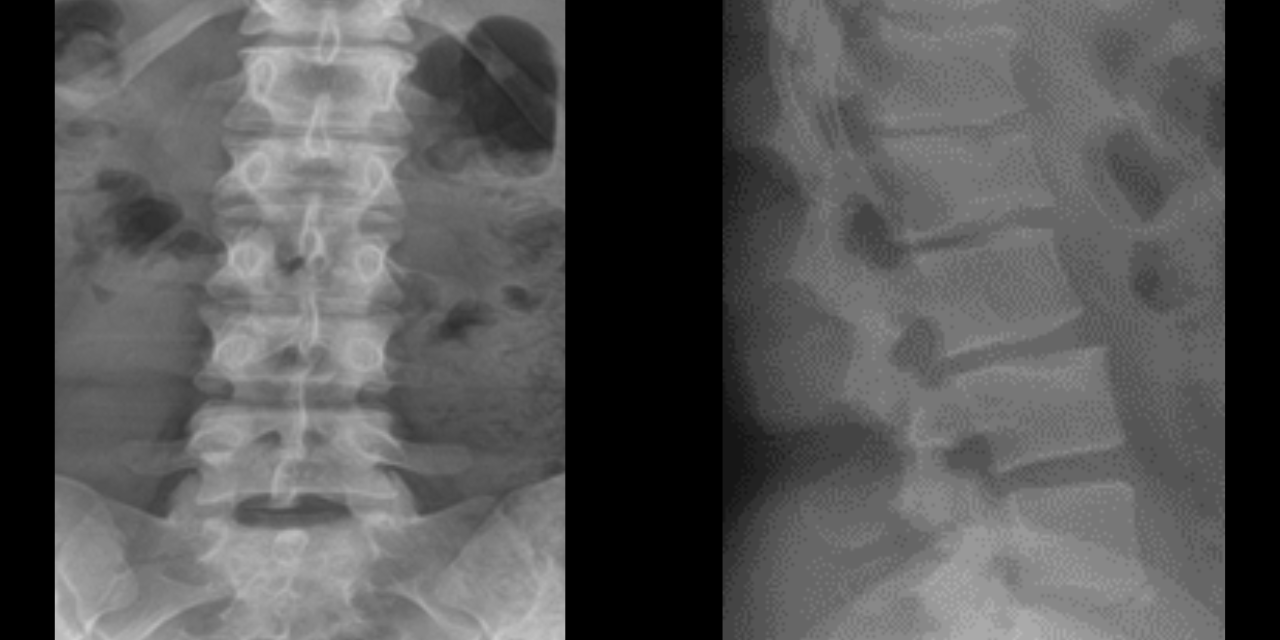 Mid and low back pain are extremely common symptoms that prompt patients to seek chiropractic care. But, as chiropractic physicians, we know the etiology of that pain can be due to a wide range of pathologies that present with very similar signs and symptoms, resulting in diagnostic challenges. A radiographic examination of the patient can often be a vital component to determine the appropriate diagnosis, and, therefore, patient care.
Our patient is a 28-year-old female with non-specific chronic mid and low back pain without history of trauma. Orthopedic and neurologic testing was normal. Radiographic examination of the thoracic and lumbar spine was performed.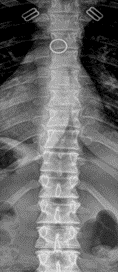 Radiographic examination of the thoracic spine was normal with no osseous abnormalities noted (Figure 1 and 2). The lumbar spine radiographic study revealed several unexpected findings. 
These findings include wedging of greater than 25% of L1 and L2, well-defined endplate concavities at L2 and L4, limbus bone at L5, and disc height narrowing at L1/2 and L2/3 (Figure 3 and 4). If these findings were noted in the thoracic spine, the diagnosis of Scheuermann's disease would be fairly easy to assume; however, in the presence of a normal thoracic spine and localized abnormality of the lumbar spine, the diagnosis is more complicated.
Scheuermann's disease was described in 1920 by Danish surgeon and radiologist Dr. Holger Werfel Scheuermann as an adolescent condition with a painful, fixed, dorsal kyphosis accompanied by vertebral body wedging and endplate abnormality1. The classic Sorenson criteria for diagnosis of Scheuermann's disease included three adjacent thoracic vertebral segments with greater than 5° wedging, accompanied by >40° thoracic kyphosis; however, other authors suggest the presence of one wedge vertebrae plus the presence of endplate abnormality (Schmorl's nodes, limbus bones, endplate irregularities) can be sufficient for diagnosis1. Classic Scheuermann's disease involving the thoracic/ thoracolumbar spine has been well-understood and well-defined in the literature for the past 100 years; however, the disease localized to the lumbar spine is less well-defined and much less easily identifiable by physicians that may not be familiar with it. It has been proposed in the literature that the subtype of atypical Scheuermann's disease only affecting the lumbar spine should be classified as lumbar Scheuermann's disease2.
Classic Scheuermann's disease occurs in approximately 5% of the population, but lumbar Scheuermann's is thought to occur far less, making this a fairly rare condition3. The etiology of Scheuermann's appears to be multifactorial, but a strong genetic component is evident. It is thought that excessive mechanical stress, plus an inherent genetic weakness of the cartilaginous endplates, is the most likely cause of the clinical and radiologic findings. A genetic correlation in lumbar Scheuermanns's also seems to be evident, but it is interesting to note that this subtype tends to occur in the more athletic population or those with increased axial load to the spine2.
While lumbar Scheuermann's disease is a rare condition, it is important for the chiropractic physician to be aware of its radiographic appearance, because the most common reason for a patient to seek chiropractic care is low back pain. Low back pain is typically the only presenting symptom of lumbar Scheuermann's disease, since deformity is not seen due to the localized nature of this entity (only 1-2 levels are typically involved)3. While treatment for classic Scheuermann's disease can range from conservative stretching to bracing to surgical intervention, it is important to note that lumbar Scheuermann's disease is treated conservatively. As an important note, if lumbar endplate abnormalities consistent with Scheuermann's disease are seen in conjunction with thoracic or thoracolumbar abnormalities, this is not considered lumbar Scheuermann's disease and represents typical Scheuermann's disease, with a higher risk of deformity progression. A diagnosis of lumbar Scheuermann's disease should only be made once all clinical, radiographic, and laboratory investigations have been performed and are normal3.
References
Palazzo C, Sailhan F, Revel M. Scheuermann's disease: An update. J Joint Bone Spine. May 2014; 81(3):209-14.
Blumenthal SL, Roach J, Herring JA. Lumbar Scheuermann's. A clinical series and classification. Spine (Phila Pa 1976). 1987 Nov;12(9):929-32. PMID: 3441839.
Singh M, Bansal M, Singh A, Bharwani N, Bhati M. Atypical Lumbar Scheuermann's Disease: A Rare Entity and Literature Review. J Orthop Case Rep. 2023 Feb;13(2):48-50.