ICS Annual Fall Convention Is Back In Person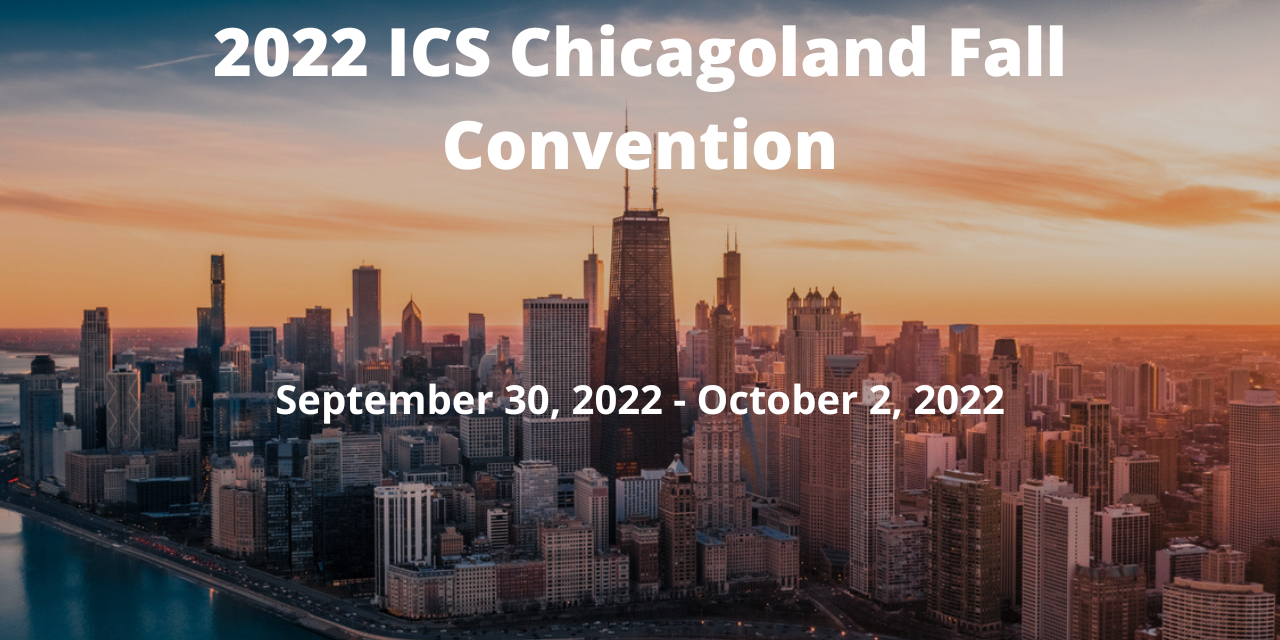 For the first time in two years, the 2022 Illinois Chiropractic Society Chicagoland Fall Convention is back live and in person September 30 through October 2 at the Northern Illinois University Naperville Conference Center in Naperville, Illinois!
This year's conference is an event you do not want to miss. We will meet at a state-of-the-art educational facility, with a list of the most sought-after speakers in the field. Experience the camaraderie and networking opportunities with your colleagues from across the state, and take advantage of the occasion to be a voice in setting the direction of your association at the membership meeting. And with license renewal coming up next year, this is the perfect place to complete your required medical education credits.
General Membership Meeting
The ICS is a member-driven organization – it is your association. Every member has a voice by voting on recommendations made by the Board of Directors, consisting of chiropractic physicians from across the state. You can use that voice at the annual general membership meeting that will be held on Saturday, October 1, at 4:10 p.m.
It is strongly urged that you attend the meeting this year, as the ICS Board of Directors has recommended several proposed changes to the ICS Constitution and By-Laws to streamline the work of the ICS. These changes will be discussed and voted upon. Again, this is your chance to set the direction of your association. You must be present on site at the general membership meeting to vote.
Educational Opportunities
The Medical Practice Act requires licensees to complete a total of 150 hours of Continuing Medical Education (CME) per three-year license cycle and allows the Illinois Department of Financial and Professional Regulation (IDFPR) to further define the requirement by rule. The total of 150 hours may be completed at any time during the three years and is to be comprised of 60 hours of "formal" or Category I hours, and 90 hours of "informal" or Category II.
You can receive 17 of those hours in a couple of days in one location at the convention! Good Faith Estimates, ICD-10 Coding Updates, and HIPAA Requirements are just a few of the timely topics on the agenda. Dr. Steven L. Heffner, Dr. Bill Hemmer, Dr. Bart Green, Dr. Alicia Yochum, Dr. Mario P. Fucinari, Dr. Delilah A. Renegar, and Dr. Erin E. Ducat are some of the experts who will be presenting.
Networking Opportunities
One unique benefit of attending the convention in person, is the chance to share with, and learn from, your colleagues from across the state. The educational sessions are, of course, a fount of information, but what you can learn from talking with other dedicated doctors in your field can be equally valuable.
There will be plenty of chances to have these informal conversations on-site. There is an Exhibitor Reception Friday evening; Continental Breakfasts on Saturday and Sunday mornings; a networking lunch on Saturday; and refreshment breaks each convention day.
The Expo Hall
On-site participation also provides the opportunity to reconnect with industry-leading vendors in the convention exhibit hall. Learn about the latest tools of the trade and find that product or service you have been searching for.
ChiroHealthUSA, NCMIC, Foot Levelers, Standard Process, Aligned Modern Health, Aligned For Excellence, and many others will be in the exhibit hall to answer your questions and be ready to fulfill your business needs.
And If You Can't Make It in Person?
There is still chance to participate and learn. There will be one education track offered virtually that provides up to a total of 13 CME Category I credit hours. These classes will be simulcast live during the convention. Just click on the virtual button on the registration page.